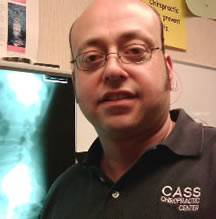 Dr. Steven Cass
has been practicing Chiropractic for over 20 years. He is listed in the current edition of the Consumers' Research Council of America's "Guide to America's Top Chiropractors".
Dr. Cass received his Bachelor's degree from the University of Minnesota in 1988, and then continued on to graduate from Northwestern College of Chiropractic in 1992. After working in some of the biggest Chiropractic offices in the Twin Cities, Dr. Cass decided to open Cass Chiropractic Center in 1993.
"I just didn't find people were receiving the personal attention they need in many of the bigger clinics. Simply put, I treat people the same way I want to be treated, and that's why I had to open my own office."

Dr. Cass stays very active himself, practicing what he preaches. He participates in many sports and activities including weightlifting, mountain biking, running, tennis and bowling. Dr. Cass is even a part-time professional musician, and a member of the Chiropractic Performing Arts Network (CPAN).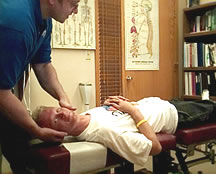 "When your body is working like it's supposed to, you are not only able to do more, you want to do more. At 47, I'm easily in better shape than when I was in high school."

It may sound corny now-a-days, but Dr. Cass' simple practice motto is to treat patients like he treats friends and family.
"When I talk about Chiropractic Care and health to people, it's not a marketing ploy. There is real research to back it up, but most of all it works for me, my patients, my family and friends."